English below.
No hay duda de que Google se ha convertido en el líder en motores de búsqueda en Internet.
Google dice poseer cerca del 80% de participación en los resultados de las búsquedas; por ello, si poseemos o administramos un sitio web, es mandatorio contar con una buena estrategia de Optimización de Motores de Búsqueda (SEO por sus siglas en inglés).
El escoger las palabras clave adecuadas y contar con una metodología apropiada para hacerlas fáciles de buscar, alcanzables y relevantes, ayudará mucho a Google en su proceso de indexación.
El trabajo de Google comienza cuando programas "robot" automatizados (conocidos en el submundo geek como "arañas"), trepan (literalmente) y exploran la Internet en un exhaustivo proceso, buscando página por página por información relevante.
Las arañas pueden prácticamente leer la información escrita en los sitios para que Google pueda indexarla adecuadamente.
El tiempo que las arañas le dedican a la lectura de una página es muy variable, pero usualmente es muy corto.
En la captura de pantalla abajo (obtenida mediante Woopra), podemos apreciar a las arañas de Google trabajando en este blog. Como podemos ver, han visitado siete páginas en menos de un minuto, con tiempos que van de los 3 a los 16 segundos por página.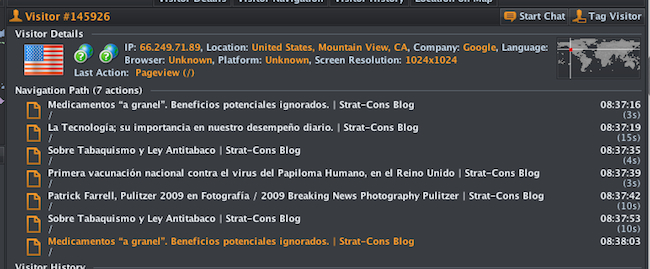 There is no doubt that Google has become the leader in Search Engines in Internet.
Google claims to have something around 80% of share of the search results; thus, when you own or administer a website, it becomes mandatory to have a good Search Engine Optimization (SEO) strategy.
Choosing the adequate keywords and having the proper methodology to make them searchable, reachable and relevant will help Google with its indexing process.
Google work starts when automatized "robot" programs (known in the geek underground world as "spiders"), literally crawl through the Internet in a painstaking process, looking page-by-page for relevant information.
These spiders can actually read the information written on the sites, so Google can properly index it.
The time that the spiders spend reading a page may vary, but it's usually very short.
In the screenshot above (taken via Woopra), you appreciate the Google spiders working on this blog. As you can see, they have visited seven pages in less than a minute, timing from 3 to 16 seconds per page.